We have been in the business of creating products made out of 100% recycled rubber for playgrounds and landscaping for more than a decade and we have seen some dramatic changes in the marketplace.  Once a niche product, rubber mulch has become a mainstay at major retailers across the country.  Consumers have embraced the idea that using rubber mulch saves time, money and the environment.  While these changes are remarkable as we look to become better stewards of the land, there is one thing that has not changed and it is a major concern – injuries on playgrounds.
As next week is the start of National Playground Safety Week I find it somewhat troubling that more than 200,000 children are still injured each year on the playground.  I have been writing these entries for many years and sadly, while the collective mindset and acceptance of rubber mulch has changed, the statistic on injuries has remained the same.  I wrote a post on this topic more than six years ago and wanted to revisit the topic to see if we can all help lessen this issue in the years to come.
For all of us with little ones, we yearn for the days when we can walk to the local playground, get some exercise and enjoy our time with family.  Our children's safety is paramount to us, and as time moves on more and more requirements are placed on how they play as opposed to how we played.  Thirty years ago there were no bike helmets, seat belts were optional, there were no car seats and padding was not made for any and every conceivable play option before us.  Time and statistics have shown us that we need to be more diligent as to how our children play and how we view safety.
It is a widely known fact that each year more than 200,000 children are taken to the emergency room as result of an accident or fall on the playground.  Nearly 70 percent of these injuries are the result of falls, rather than equipment-related.  In addition, recent studies have indicated that approximately 80 percent of all playgrounds have unsuitable or unsafe surfacing or ground cover and only 9 percent of home playgrounds have the proper surfacing.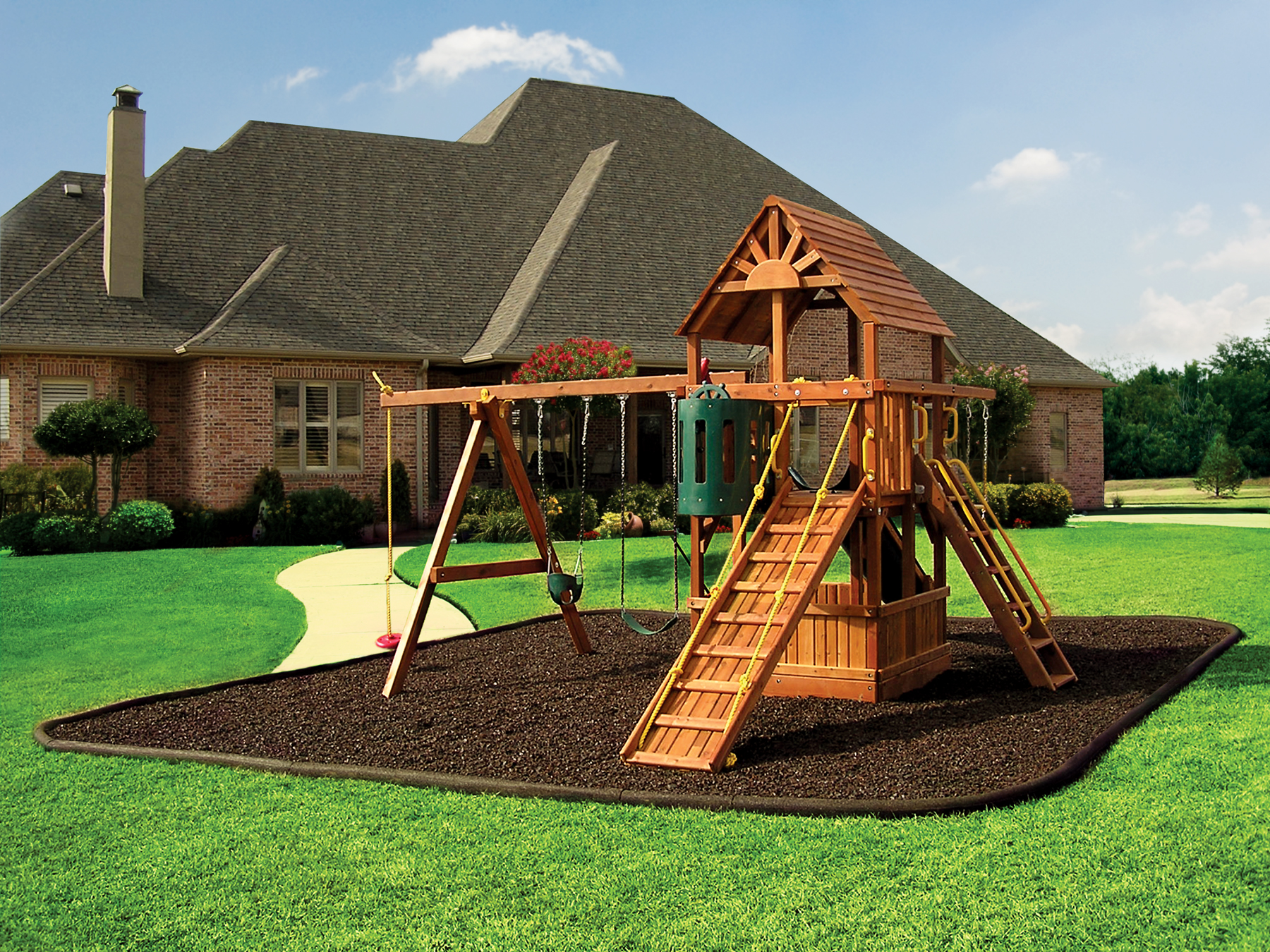 Installing a proper groundcover is an important step and precaution that parents and caregivers should take to ensure children's playground safety – it has to do more than just look good, it must be safe.  By doing something as simple as replacing gravel or wood chips with products like Rubberific Mulch, NuPlay, NuScape or Re-Play we could help prevent or reduce the severity of injuries for thousands of children each year.
While we are in the business of manufacturing recycled rubber products for landscaping and playground applications, the numbers tell the truth – there is no safer playground surface than loose-fill rubber mulch.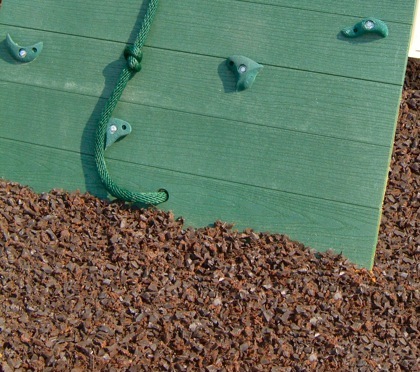 Here are the fall height ratings.  The fall height should be greater than the highest piece of equipment on the playground.
• Asphalt – 0 feet
• Concrete – 0 feet
• Bare ground – 0 feet
• Sand – 5 feet
• Gravel – 6 feet
• Engineered wood fiber – 6 feet
• Wood chips – 7 feet
• Rubber mulch – 16+ feet
As the statistics show, rubber mulch offers twice the fall height rating of its closest competitor.  In addition to its outstanding rating, there are also fewer bruises, scrapes and cuts when rubber mulch is the surface as there are no sharp edges and rubber mulch will not compact over time lessening its safety rating.
In addition to installing recycled rubber as your ground cover of choice for safety, here are a few additional tips to stay safe:
• When you first get to a playground look down first and then up.  If you do not feel that the surface is safe, the material is old or compacted, it may be best to find another area to play.
• Taking a child to a playground should be seen as active, for both the child and the adult.  Some parents like to spend the time reading a book or sitting on a bench, but as we know, many children channel their inner daredevil when they reach the play equipment.  Forty percent of all playground injuries are the result of a lack of supervision.
• Find age appropriate equipment for your child to play on.  Only 9 percent of playgrounds have signs noting the recommended age for play.  If you think it may be dangerous, it probably will be for your child.
• Remove hood and neck drawstrings from all children's outerwear.  Never allow children to wear helmets, necklaces, purses, scarves or clothing with drawstrings while on playgrounds as it increases the risk of strangulation.
• Report any playground safety hazards to the organization responsible for the site (e.g., school, park authority, city council).
• Find a park that offers the little ones some shade as children can become dehydrated very quickly as the temperature rises.
Together we can all help make our play areas safer for all children.