[et_pb_section admin_label="section"][et_pb_row admin_label="row"][et_pb_column type="4_4″][et_pb_text admin_label="Text"]
Kids play hard. Kid Kushion playground tiles help keeps play safe!
International Mulch Company is proud to announce that we are expanding our product line once again with Kid Kushion Playground Safety Surfacing Tiles made from 100% recycled rubber.  If you like the durability, longevity and safety of recycled rubber but mulch may not be your choice, why not take a look at this easy to install interlocking playground tile system?
Kid Kushion is a durable and resilient playground tile system that is an ideal safety surfacing option for cushioning your playgrounds, daycare centers, community centers and school play areas.  With IPEMA certified fall height ratings of up to 10 feet, these playground safety surfacing tiles are a cleaner and safer alternative to traditional wood mulch, grass, sand or gravel.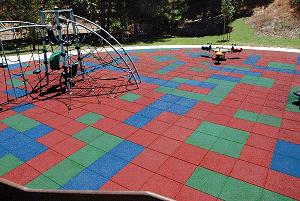 Recycled Playground Tiles:
Kid Kushion Playground Safety Surfacing Tiles are manufactured from durable and resilient 100% recycled rubber making them the preferred choice for commercial playground professionals.  The ease of installation also makes them a great choice to install in a backyard play area.  With a 5-year manufacturer's warranty you know that your children will be safe for years to come.
These 24-inch Kid Kushion Tiles come in three thicknesses (2.5", 3.5" and 3.75"), offering fall height ratings of 6′, 8′ or 10′. Color options include nine standard colors and more than ten premium color options. Custom premium color blends are also available as well upon request.  One of the most popular features associated with this product is its ability to be installed without using any adhesive.  The unique metal connector clip system makes the installation as well as repairs or reconfigurations very easy.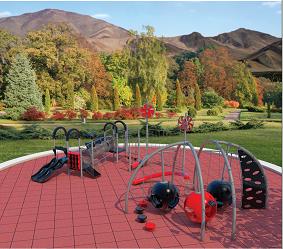 Kid Kushion playground tiles can be installed over any firm and flat surface such as concrete, asphalt or a compacted gravel base.  The playground tile manufacturing process creates a durable surface that is slip resistant in wet or dry conditions, in addition to offering excellent drainage so children can play come rain or shine.  A full complement of trim and accessory components are available for the Kid Kushion playground tiles such as: sloped transition ramps, outside corner pieces, along with ADA certified wheelchair access ramps.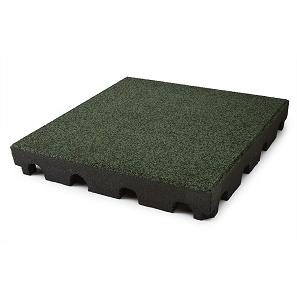 Kid Kushion playground tiles are fully certified by IPEMA for the ASTM F1292-09 head impact attenuation specification. These products are also ADA compliant and meet ASTM and CPSC requirements.
For more information on Kid Kushion Tiles or any of our landscaping and playground products made from 100% recycled rubber give us a call at 866.936.8524.
[/et_pb_text][/et_pb_column][/et_pb_row][/et_pb_section]